Last month's Freskon exhibition welcomed its highest number of visitors and exhibitors in Thessaloniki, as it aimed to connect suppliers with Europe's largest retailers
Freskon recorded a significant increase in visitor numbers on 23-25 April, with the fruit and vegetables exhibition receiving 4,339 attendees at the Thessaloniki International Exhibition Centre, according to organisers Tif-Helexpo.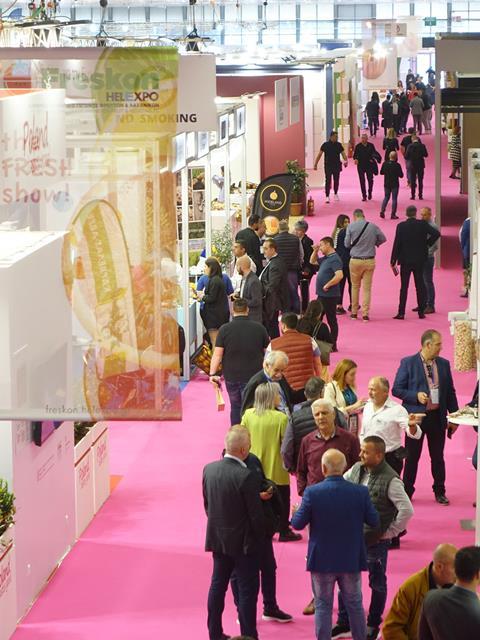 This year's event attracted 217 exhibitors from 12 countries – Greece, Moldova, Romania, Poland, Hungary, the Netherlands, Cyprus, Italy, Spain, India, Bosnia-Herzegovina and Turkey – 25 per cent more than in 2022.
The International Citrus Fruit Congress was held on the exhibition floor, with presentations and discussions covering topics from the development of propagation materials and modern orchard organising to integrated post-harvest management and marketing.
More than 2,000 targeted business meetings were held between hosted buyers and participating companies, thanks in part to FreshCon Market, which served to connect Greek suppliers with the largest supermarket chains in Europe.
Sixteen supermarket chains from 11 countries – Greece, Cyprus, Serbia, Albania, Poland, Romania, Bulgaria, Belarus, Lithuania, Kosovo and Ukraine – held 640 trade meetings with fruit and vegetable professionals during the event, according to Freskon.
Alexandra Bicu of Moldova Fruct said Moldovan companies were looking to enter new markets, especially in the EU. "Our apples, plums and apricots have excellent taste, so we are focusing on these in this market, especially our different stonefruit varieties."
Monica Szewcyk of Poland's Agro Queens said the company was interested in exploring export opportunities in Greece after a hiatus from the market, and was keen to see what had changed and how its products, including organic apples and vegetables, might best fit the market.
BioSun, formed in the 1990s, is one of the oldest and largest organic companies in Greece and is seeing good growth in organics, according to founder Michalis Pachnos.
"It may not be as big as in Germany or Scandinavia, but Greece is slowly following the rest of Europe," he said. "Given the enormous challenges this country has faced over the past few years, I think it's doing quite well."
Labour and climate top challenges
For most producers in Greece, as in most of Europe, a shortage of workers, both in the fields and in the packhouses, is a major issue.
"The lack of workers is the biggest problem for farmers in Greece," confirmed Athanasia Serdari of ACN Naoussa. "Many people don't want to work in the packhouse or on the farm."
"The main problem in strawberries is that we don't have a lot of workers," added Christos Georgiou of Berry Plasma. "Some farmers are leaving outdoor fields unpicked because they can't harvest them."
"It is a very big problem across Europe," said Efthymios Balanis of Asepop Velventos, "perhaps the biggest, along with the climate issue."
According to Balanis, changing weather conditions are a big concern. "The weather conditions have changed a lot, and it's been very difficult for peach and nectarine producers in recent years," he said. "We have had a lot of rain and a lot of hail, and that is a disaster for stonefruit."
"Many farmers have cut down peach and nectarine trees due to the bad market," continued Serdari. "They are looking at alternative products like kiwifruit, so it's no surprise that Greek kiwifruit volumes are on the rise."
Elena Kolios of Greek kiwifruit exporter Kolios said that the season had gone much better than expected after a tricky 2021/22 campaign for Greek kiwifruit. For Kolios, the shift to golden kiwifruit continues, with the plan being not to overproduce the highly sought-after Soreli variety in order to maintain the good price level.
Massimo Ceradini, CEO of Greek-Italian kiwifruit supplier King Fruit, said the priority was to focus on high quality. "We are choosing the best growers in Greece, and trying to bring in some of our Italian know-how," he said. "We want to be attractive to growers that want to produce the highest quality, so we pay them well. We have been very satisfied this season, especially as expectations at the start of the campaign were not so good."
Technologies offer various solutions
Of course, labour shortages are a Europe-wide issue. Alexandra Bicu of Moldova Fruct said the problem was particularly acute in Moldova's countryside.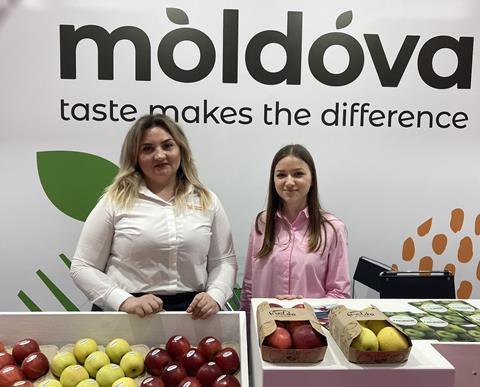 "The problem is that more and more people are going to other countries to find better salaries," she said. "And people don't like the physical work involved in agriculture. That's why we're looking at different technologies and digitalisation."
Sorting machines from the manufacturers including Maf Roda, Olimpias and Novatec dotted the Freskon exhibition. "Whatever the product – cherry, citrus, tomato, apple, watermelon – there is an appropriate machine for it," said Kostas Dimakopoulos of Olimpias. "With the help of new technologies, we can be more efficient and help businesses to keep their costs down and guarantee quality, reducing waste and claims."
Greek high-tech firm Green Projects manufactures devices to provide farmers with the data needed to maximise efficiency and optimise production, according to the company's John Papadopoulos.
"These devices monitor the radiation, air humidity, air temperature, wind direction, rain patterns," he said. "We design these devices for monitoring, and we have Kalathos for traceability. Kalathos is an electronic platform for online business to business collaboration. It allows anyone to check product availability and detailed product characteristics. You can estimate the transport scheduling and get quality assurance, and we are now working on the negotiation and contracting stage."
https://www.fruitnet.com/eurofruit/freskon-attracts-record-numbers-in-greece/248935.article