New Greek fruit brand Youphoria is prioritising quality over quantity as it aims for a collaborative approach with the right growers and the right customers
Youphoria, a new fruit brand from Greece, is hoping to make waves on the European market, not just in kiwifruit, but also in grapes and cherries. According to George Kallitsis, general director at Youphoria Fruits, the concept is to work directly with growers, forming a producer organisation for those growers that want to join the brand on a more permanent basis.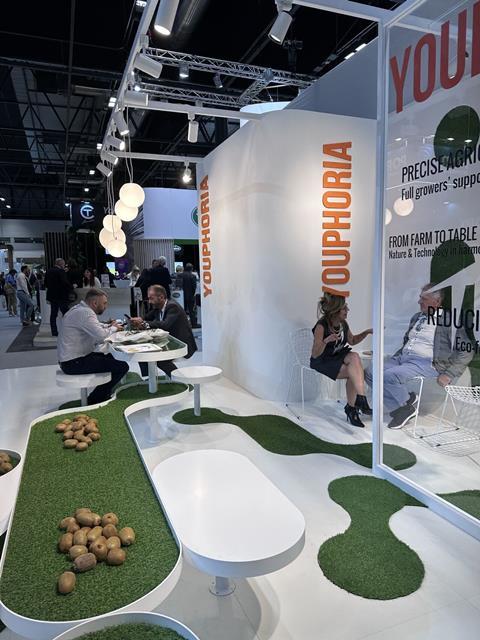 "Of course, there'll be growers that will be here one year, there another year," he says, "but our aim is to have more growers that are focused on working with us. We want to help them improve and also increase their incomes. I believe there is a lot of room for improvement in terms of the way farms are treated."
Youphoria-branded fruit will come from the main production regions across the country, according to Kallitsis. "We start in the east in Rodopi, close to Turkey," he says, "then Kavala, then Pieria, where our packhouse is situated, about 25 kilometres south of Thessaloniki. Here we take kiwifruit, grapes, some cherries, then it's Pella for cherries and Larissa for kiwifruit and grapes."
Kallitsis says that with Youphoria, the team wants to change the way of collaborating with the growers. "This is something that is missing in Greece," he explains. "There is no real collaboration between the packers and the growers. This is one thing that I will try to change with Youphoria. We will focus more on quality rather than volume and we will try to build the Youphoria brand by using a small and effective team of people to find the right growers and the right customers.
"We're also gradually cutting our carbon footprint, making farms greener and optimising post-harvest processes. Plus we're rolling out new software that, among things, tracks the CO2 emissions of our farmers."
According to Kallitsis, the aim is to target Europe and the Americas, with less of a focus on Asia. "We don't see the same potential in Asia as we saw in the past, so we will be more focused on Europe, as well as North America and South America," he says.
The popularity of kiwifruit has increased since the Covid pandemic, at least in Europe, with the fruit seen as a great source of vitamin C. "In Europe, consumption has reached a good level," he says. "The fruit is known for its healthiness. In North America, however, consumption per capita remains low. It is now increasing, so we see opportunities."
For Kallitsis, a crucial effort for the Youphoria brand will be in improving the taste experience for consumers. "This is one thing that we must focus on," he says. "For someone who doesn't know the fruit, you need to be very careful how you present it. It needs to be ready to eat, otherwise people will eat the fruit when it is not ready and then they'll never eat it again."
With Southern Hemisphere kiwifruit stocks depleted after weather-affected seasons in New Zealand and Chile, the importance of getting started early has been clear. "We planned to start as early as possible with Hayward, with exports commencing to European markets in the middle of October," says Kallitsis. "We've never done this in the past. Europe usually starts in November, but a lot of retailers wanted to begin earlier."
High demand, of course, also means growers are in a strong negotiating position this campaign. "It's a tricky season for us because farm prices seem to be very high," says Kallitsis. "And we have been in the middle of negotiations with the growers. This makes it difficult for a new company. Last year, farms prices were around €0.50, this year they're more like €1, so double the cost. Of course, we expect to sell at a higher price, but it means we need more money to begin with."